There was a heightened energy on the streets the day before Martin Luther King, Jr. day and just two days before Barack Obama would be sworn in as our first black president. We thought it was appropriate timing that we were taking in Harlem's history.
I'd been so excited for this particular date, and I wasn't embarrassed to share my enthusiasm with my friends. I had already decided I was halfway in love with Ryan based on the clever quips from our email exchanges alone. He is smart. Funny. Cute. Kind.
And, he had charmed me even more with a really great date idea that I was hoping to do.
Even though Harlem is my home, I haven't taken the time to see many of its fantastic sites or hear its glorious choirs. So Ryan and I had planned to take in some Harlem gospel music.
Fate would change our plans.
I had worked late into the night, not arriving home until 4am. I don't even remember falling asleep, much less my alarm going off four hours later.
Ryan called me at 8:30 to let me know some last-minute business kept him at work until 6am.
We decided to start our day later than planned and prayed that somehow we would find good church music, somehow.
I believe in miracles.
Our self-guided tour began on 125th Street. I walked beside him as he bounced along, showing how his hip hop moves would help him fit in with the locals. We passed a woman giggling in favor of Ryan's skills.
It is impossible to be bored around him.
This was a new adventure for Ryan. He moved to the city three months ago from an all-white town of 13,000
people in Michigan. He was excited to be in the mix of an environment so different from his own and wanted to see everything.
I pointed out the Apollo Theater and we headed over. It was locked. Fearless Ryan happily asked the cops standing outside if they could break us in. My charismatic companion was quickly making new friends.
Ryan announced to Harlem that "he had arrived" as we headed across the street. A vendor stepped in our way. "Do you like jazz?" He quickly tried to sell us a cd, which he would sell to Ryan for $15.
"I'm sorry, we have a budget of just $31 today." Ryan was very diligent with our budget.
"Ten dollars then!" says the determined salesman.
Ryan wasn't swayed and we headed inside.
During the Winter months, The Studio Museum is free admission on Sundays. This was a must-see on our list.
It was quiet before we arrived.

There was an exhibit for Barkley L. Hendricks, an African-American painter who had a flair for life-sized portraits in the seventies. My favorite was the self-portraits of Hendricks in a superman shirt. Without any pants. I snickered like I was back in junior high.

We headed back outside and enjoyed the vibe of the neighborhood, hoping that we would be blessed enough to find a local nighttime church service.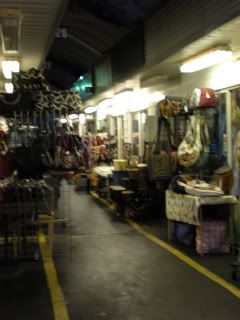 Our turn onto 116th street led us toward the Harlem Market. I took some pictures while Ryan was stopped by another guy hungry for a sale. The man wrapped a black-roped bracelet onto Ryan's wrist and declared, "25 dollars! That's from an elephant!"
"Elephant tusks?" Ryan quizzed.
"Yes! Fifteen dollars!"

I was surprised that Ryan - a natural salesman - had not quickly picked up the New Yorker's knack for saying "no."

We finally made our way out of the market when we spotted the mecca to our miracle across the street.

"Let's do it," he guided.
We weaved our way through the crowds and into a church where we were welcomed by smiling faces. It was obvious we were visitors, but Ryan acted as if we belonged there.
"Is there another service?" he asked.
The bishop opened his arms to us. "There's a service at 6:00!"
I watched as Ryan quickly won the bishop over. He then reached into his wallet and handed the bishop his business card. The bishop raised his eyebrow at me. "Is he making a sales pitch to me?"
"No," Ryan said. I work for this company and I'd like to give you a complimentary gift for your hospitality.

I told you. Natural salesman.
But I was also quickly learning: also a naturally good guy.

We had time to kill so we walked up to Marcus Garvey Park.
I asked what he did for Christmas and he mentioned that since the homeless shelters already had volunteers he did what he thought was the next best thing. He invited a homeless guy into his home, offered him a shower, some new clothes, and took the guy out for a meal.

The cynic in me wanted to think, "Is this guy for real?"
But he is.
Ryan is the real deal.

I found that out as we walked into the park and up Mount Morris. Ryan made sure I didn't slip on the snow. He told me about his family, their trials, and a life-changing car accident he had when he was younger. It's apparent that Ryan enjoys every moment in life and takes the small things into account.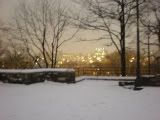 As we headed back down the hill there was an empty black plastic bag sitting on the ground. A typical prop to Harlem's scenery.
Ryan picked the bag up and dropped it off into the next garbage can we passed.
That's just the kind of gesture in his nature. And it became exceedingly apparent as we were sitting back in the church.
Everyone just flocked to him. Yes, I'm sure that the fact that we were the only white people there had something to do with it. But Ryan just gives off a certain vibe that allows you to feel fully comfortable with who you are. He is a celebration of life in human form.

The beginning of the service was a series of singing, praising "Hallelujah", and hearing people stand and share their testimonies. One after another, congregational members stood and talked about how they loved the Lord and knew that God was good. They spoke of their challenges, their never-ending faith, and their gratitude for the community.
And then Ryan stood up.

"I had to work until 6am and I wasn't able to make it to church this morning. We just found this service because we were walking by tonight. And I just wanted to say that I have never felt more welcomed in a church than I have this one. So thank you."
Everyone clapped and cheered, "Welcome!" as if he were a superstar.

I was so honored to be next to this man.

He danced and sang his tone-deaf heart out. He clapped off beat. He shouted "Amen!" and "Hallelujah" with everyone around us. I thanked God and clenched my heart feeling the love and joy around me.
And I no longer felt out of place.
We weren't part of the minority.
We belonged there. We were part of Harlem.

Hallelujah.