How do you celebrate today's commercialization of Cupid? Is this a day you would rather forget? Or are you grateful that you have
one special day
to share your love with the world?
Valentine's Day has always been a big day for my mom. My grandmother used to make special presents for her daughters, and my mom has since passed along the tradition to me and my brother. It's sweet.
This always seems like a tricky day for every other relationship. Whether single, divorced, dating, married, just friends, or are hoping to be something more, this manufactured holiday can put some people's heads into a tailspin. Are you one of them?
This year my husband decided to put a spin on getting me flowers.
Of course, nothing that I get him will compare to receiving the bike I've been wanting for the last six months.
I know, I know. "It's not a competition." But Valentine's Day, why do you always seem to make me feel like it
is?
Wasn't my self-conducted
31 Dates' "competition" for a Valentine
's Day
date proof that you have such a strong power over me??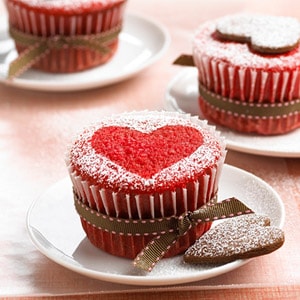 Today I'll have to find a way to step away from the computer and find a way to spoil myself a bit. I think I hear that cupcake place calling my name. I mean, after all, this is supposed to be a day about love. And I
love
cupcakes.
Will you be doing the same? If nothing else, please don't allow today's overflowing burden of gift-giving and love-declaring to be a reason to hate on yourself. I have no idea what you're wearing today, but I can almost guarantee, hating yourself just doesn't match. But maybe a yummy cupcake will...
{image}