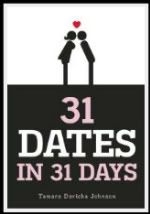 Meet all the guys who changed Tamara's life in the award-winning memoir, 31 Dates in 31 Days:
A true-tale of how one woman's daring dating adventure unexpectedly led to love and marriage.
Order
a signed copy of 31 Dates in 31 Days
31 DATES IN 31 DAYS
WINNER: BEST DATING BOOK
"I wish a book like this had existed when I was still single."
-Tiffany,
Tiffany's Bookshelf
"I really loved, loved this book. Why? And what makes it different? Actually, it's not so much that it is really different, but it is so engaging and rings so true that I instantly fell in love with the storytelling."
-Tina,
Bookshipper
"Johnson's breezy, candid writing style breathes life into what might otherwise be a sad tale of a woman disillusioned with dating. As she goes on her 30 first dates (many of them blind--and most of them quite enjoyable), she takes a clear look at her past dating mishaps, the cultural pressure to find the perfect mate and the challenges of the big-city dating scene. Readers will enjoy the accounts of each date, complete with awkward moments, honest self-reflection and even a few crushes. ...Readers in all stages of the dating process will find something to cheer for in this witty, wise, heartfelt tale of dating, gaining confidence and finding love."
-
Katie Noah Gibson,
Shelf Awareness
"31 Dates takes you from being chosen to being the chooser, from feeling rejected to doing the rejecting, and from loneliness to love. It's a must-read for any woman who has told all of her friends that she's swearing off men but who can't seem to swear them off for good."
-Alisa Bowman, author, Project: Happily Ever After
"Through this fun experiment, Tamara gives every girl out there hope: do something different and something different will happen!"
-Kimberlee Auerbach, author, The Devil, The Lovers & Me: My Life in Tarot

"This tale is much more than a dating marathon, it's a story about picking yourself up and getting on with your life when it would be easier to sit on the couch with a bucket of bon-bons. This is a daring adventure... with and ending that delights."
-
Anna Mitchael
, author,
Just Don't Call Me Ma'am
"When Johnson challenged herself to go on 31 Dates in 31 Days, she didn't realize that it would end up being an act of radical self-love. Her journey proves the ultimate truth that you have to love yourself before you can find and have great love."
-
Christine Arylo, author of
Madly in Love with ME
and Choosing ME Before WE